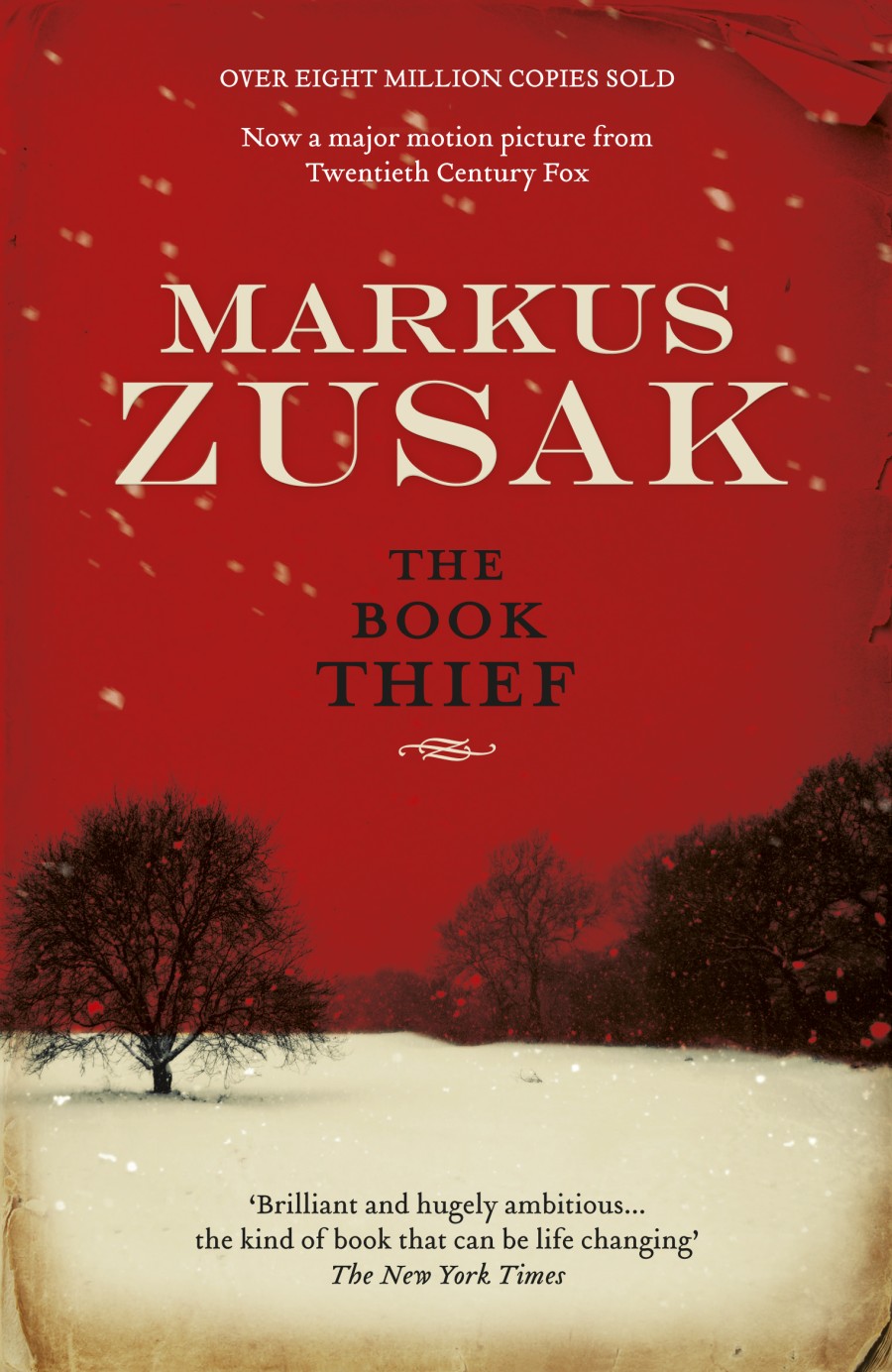 Annotation: Zusak, M. (2019). The Book Thief. Sydney, New South Wales: Picador/Pan Macmillan Australia.

Summary: The Book Thief is the story of Death's encounter with a little girl during The Holocaust and the way she helps him recognize the power of the human spirit and its indomitableness even in the middle of one of humanity's darkest hours.
3. Analysis: The Book Thief is one of Marcus Zusak's best-known books and a stylistic masterpiece. He uses metaphors that draw parallels between the beautiful and the grim in such a way that leaves the reader spellbound. Phrases like "First the colors. Then the humans. That's usually how I see things," and "At some point in time I will be standing over you, as genially as possible. Your soul will be in my arms. A color will be perched on my shoulder," make the act of dying – even with a "scream" as death puts it, seem like a refined process — all etiquette and poise. Note the use of sentence fragments. This is by design. Zusak's masterful writing is as much a feat of poetry as it is of prose. Although, not considered a poetry novel, there are many instances that would suggest it is. Saturated in a world of metaphor, the story flows off the pages like a hazy dream from which one does not wish to wake. Maybe this is the only way to write a story about the Holocaust for children, in a half-dozing retelling of events. That way, the pain doesn't feel as real. The characters are also rich, often presenting a multiverse of emotion and intention — at times they are kind and selfless, at others they are apathetic and cruel. Death itself, begins his journey as a wry observer, and ends a sympathizer of man. Perhaps then, if death is on our side, dying isn't so bad after all, the writer seems to suggest. The plot is well-rounded and does not spare details. Embedded in the author's ornate, but never saccharine style, each chapter seems to glide into the next with the reader sharing the experiences of the book thief, the story's focal character, and death's inspiration. This young girl goes from distrustful child, to heroine, and finally saint, as she works to bring hope to friends during this harrowing chapter in human history, and finally embraces Death not as foe, but as friend. The story's setting juxtaposes vivid colors and beautiful images of soft sunsets against sprawled bodies that lay in sweet repose after an ally bombing. This dichotomy of beauty and horror runs through the novel from beginning to end in a way that shows readers both are part of life and the one does not necessarily negate the other.
4. Reviews:
— From New York Journal of Books "The Book Thief is an astonishing piece of writing."
— From Kirkus Reviews "When Death tells a story, you pay attention."
5. Awards:
— 2007 Best Book for Young Adults
— 2006 Kathleen Mitchell Award
— 2006 National Jewish Book Award for Children and Young Adult Literature
6. Connections:
Can be used in conjunction with a history study on The Holocaust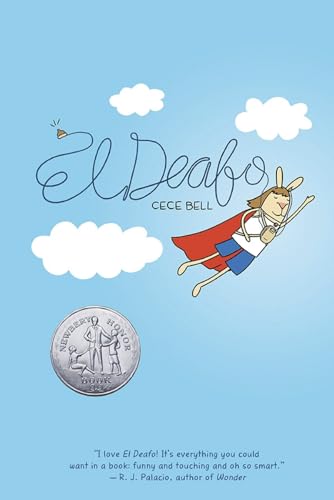 Annotation: Bell, C., & Lasky, D. (2014). El deafo. New-York: Amulet Books.
2. Summary: After contracting meningitis as a toddler, Cece Bell lost a large portion of her hearing. Soon after, Bell learned that she would have to rely on a combination of hearing aids and lip reading to communicate with others. El Deafo is the heartwarming story of a young girl learning to navigate the ups and downs of life while struggling with the challenges that come from having a hearing impairment — including the need to use a large hearing aid which makes life for a shy girl problematic to say the least.
3. Analysis: Told through warm illustrations using profoundly adorable anthropomorphic bunnies, El Deafo recounts the daily struggles of a young hearing-impaired girl who wants nothing more than to blend in with peers. This is a difficult feat since Bell's hearing loss forces her to be singled out by teachers, not to mention forcing her to wear the very large, very obvious phonic ear that allows her to understand class instruction. Tender, funny, and at times painfully real, El Deafo is sure to connect with anyone who has ever felt different. Themes of isolation, peer pressure, and infatuation emerge throughout the plot as seamlessly as they crop up in real life. Perhaps that's because this graphic novel is based on the real-life story of the author, Cece Bell. The simple, wholesome illustrations and style mirror Cece's innocence and "good girl" nature. This can be seen throughout the novel as Cece deals with domineering friends whom she has a love/hate relationship with, and even her hearing aid which she simultaneously loves and despises. Although, these issues are a challenge, Cece never complains (at least not outwardly) as she wouldn't want to hurt anyone's feelings. She even understands the benefit of her hearing aid for doing well in school although it makes her feel alienated from her peers. However, it is through the character's experiences with her hearing aid and her overbearing friends that she realizes she can see her disability as a superpower. After all, her phonic ear allows her to hear her teacher anywhere in the school and her dealings with unsympathetic friends help her appreciate true friendship when it finally arrives. One of the greatest strengths of El Deafo is that it will help hearing readers understand the nuances and intricacies of the way deafness affects different people such as when Cece's friends assume that turning up the television will help her understand what the actors are saying, when in reality the nonsense words simply go from keh ee o er ba seh moh to KEH EE O ER BA SEH MOH! and how lip reading involves being able to understand context clues as well as mouth movements. It will also help readers understand that in life everyone struggles. You can be a 50-year-old man who just lost his wife or a young girl who needs to wear a hearing aid, but we all struggle, and one person's plight, though it may be unique to them, can teach us a great deal about our own.
4. Reviews:
-From Kirkus Reviews: "A humorous and touching graphic memoir about finding friendship and growing up deaf."
-From The New York Times: Cece and all the otherwise human-­seeming characters in "El Deafo" have rabbit ears (and rabbity noses), a witty visual metaphor for the outsize role ears play in the life of someone with hearing loss.
5. Awards:
2015 Newberry Medal Award Winner
6. Connections:
— Can be used with a social, emotional lesson on self acceptance and positivity

— Can be used to teach diversity and inclusivity
Annotation: Barnhill, K. R. (2019). The Girl Who Drank The Moon. Chapel Hill, NC: Algonquin Young Readers.

Summary: The Girl Who Drank the Moon is the story of the Protectorate and how they must sacrifice a child to an evil witch each year in order for their people to remain safe. However, as the novel unfolds, the narrative reveals that things are not always what they seem and that suppressing the truth can have devastating consequences. Fortunately for the families who are forced to abandon their children, their infants are actually given a second chance at life through the most unexpected of people.

Analysis: The Girl Who Drank the Moon invites the reader into a world shrouded in mystery and antiquity. The setting is both complex and rich in texture with intricate worlds of cryptic elders, fantastical creatures like tiny dragons, and everyday people who feel both magical and relatable. The central character, Luna, is a young girl who was selected as a sacrifice for the "evil" witch. However, as the reader soon finds out, the witch is actually benevolent and takes these infants to their new adopted homes. Although she does not understand the human's strange habit of leaving these children out in the woods alone, she does not question it. She is simply moved to action and rescues them by feeding them starlight before taking them to their new families. The real evil in the story actually stems from a system of oppression and censorship that forces parents to sacrifice their children as a way to subdue the populace. With themes of adoption, draconian rule, and the bonds of love, This fantasy adventure story is sure to connect with readers from all backgrounds. Its characters also mature and grow, developing complex arcs that reveal the difficult, yet ultimately hopeful journey of being human. Luna, herself, goes from troubled orphan who cannot control her powers, to unlikely savior revealing that heroes can come from any background or situation. In terms of style, the storytelling is alternately simplistic and ornate. Descriptions such as those of a woman whose hair "writh[ed] like snakes" and an irate man whose face became a "glowing ember" are expertly woven in a narrative that is clean and straightforward. The result is a story that reads smoothly and gingerly, but establishes people and places that are fleshed out, intimate and above all real.

Reviews:
— From Kirkus Reviews: "An elderly witch, a magical girl, a brave carpenter, a wise monster, a tiny dragon, paper birds, and a madwoman converge to thwart a magician who feeds on sorrow.

— From The New York Times: "The Girl Who Drank the Moon," educates about oppression, blind allegiance and challenging the status quo while immersing the reader in an exhilarating story full of magical creatures and derring-do."

Awards:
— 2017 John Newberry Award Winner

Connections:
— Can be used in a social studies lesson about oppressive regimes
— Can be used in a lesson on using critical thinking skills