Bibliography: Williams-Garcia, R. (2019). One Crazy Summer. Farmington Hills, Mich: Thorndike Press, a part of Gale, a Cengage Company.
2. Summary: One Crazy Summer is the story of sisters Delphine, Vonetta, and Fern and their experiences visiting with their estranged Black Panther Mother, Cecile. The book is told from the perspective of Delphine, the oldest of the Gaither sisters, as she struggles to connect with the woman who abandoned her and her sisters years ago.
3. Analysis: Rita Williams-Garcia's book is a coming of age story that deals with themes of rejection, personal identity, racism and reconciliation. Set in Oakland, California during the Summer of 1968, the book does a great job of creating a realistic backdrop with its various descriptions including those of a Chinese restaurant with its "red neon characters that looked like fighting men waving swords," as well as believable characters with images of Black Panther Party members wearing berets, dark colors, and jackets. Williams-Garcia also does an excellent job of presenting her characters in a way that makes them feel real and authentic. The characters' thoughts and impressions of people and life in general make them relatable and sympathetic. For example, when Delphine draws a comparison between the homonyms "litter" (as in to throw trash on the ground) and "litter" (as in an animal's brood) she says "puppies don't deserve to be called a litter like they had been dropped carelessly like garbage." She even says (endearingly) that she will write Merriam-Webster for dropping the ball on that front with "her" poor use of prescriptivist language. Although this moment is wrapped up in humor, it reminds the reader of Delphine's mother's abandonment and how the pain of having been rejected can be felt in her every day perceptions about life and even language. The plot too, helps ground the reader in the story's themes and character dynamics. There is no sugar-coating here. Delphine's mother outwardly tells her daughters (and the reader) "Didn't want you in the first place. Should have gone to Mexico to get rid of you when I had the chance." Such a heady subject, although potentially difficult to process for some readers, reveals the reality and sometimes painful intricacies of the world in which we live. Although the story takes place in the 60's, fortunately it is not presented in a way that feels hamfisted. Instead, it is natural and organic, focusing instead on details such as the "green stucco" walls of Delphine's mother's home and the lone palm tree that seemed out of place in her neighborhood. These details add texture and depth, and could be found anywhere, even in 2020. Overall, Williams-Garcia's style is straight forward, honest, and incredibly endearing. This novel is sure to delight a middle, highschool, or even adult reader for its warmth, thematic depth, and refreshing honesty that is both simple and piercing.
4. Reviews:
– From The New York Times "She skillfully slips in wry period touches like Delphine's beloved Timex watch."
– From Kirkus Reviews "The depiction of the time is well done, and while the girls are caught up in the difficulties of adults, their resilience is celebrated and energetically told with writing that snaps off the page"
5. Awards:
-2011 John Newberry Medal Winner
-2011 Coretta Scott King Award for Authors
6. Connections: Will work great with a history unit on social justice or the 1960s.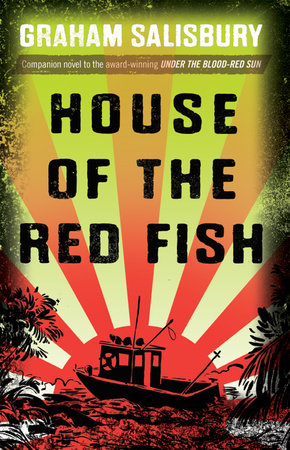 Bibliography: Salisbury, G. (2014). House of the Red Fish. New York: Random House Children's Books.

Summary: House of the Red Fish is the sequel to Under the Blood Red Sun. This story takes place after the bombing of Pearl Harbor. In this book, 14-year-old, Tomi Nakaji, deals with the aftermath of the bombing and the wrongful imprisonment of both his father and grandfather. He and his family must also face the racism that can be seen and felt throughout Hawaii in the wake of the bombing. In the end, Tomi manages to draw out his father's sunken boat with the help of his friends. He does this to ensure his family's livelihood and to honor his father. The feat also serves as a symbol of hope and personal endurance.

Analysis:
House of the Red Fish, exists in a denouement of sorts with much of the climax occurring in the previous book. The narrative meanders rather than sprints, but it does so beautifully with descriptions of the exquisite Hawaiian backdrop. Despite a narrative style that moves slowly, this installment is full of important dynamics and captures themes that are essential for middle schoolers to understand like America's tragic use of internment camps. After the bombing of Pearl Harbor and the racist repercussions that stemmed from this devastation such as the arrests of the protagonist's father and grandfather, Tomi must face the challenges of an already racist nation, which — true to history — has turned its hateful gaze on Japanese Americans and seeks to make them prisoners in their own home. Aside from the US government, Tomi's biggest antagonist is Keet Wilson–who is the embodiment of both one percenter elitism and white nationalism. Tomi must also confront his own demons if he is to help out his family and honor his father during this harrowing time. One of the most remarkable aspects of this book is how organically it creates an 1940s backdrop that feels incredibly present. This is accomplished in part because of the story's remote landscape, but also because Salisbury's storytelling is concerned more with authentic character development and realistic coming of age themes, than with tossing mid-century iconography at the reader. Lush scenery combined with descriptions of simple fishing boats and rural life also serve to draw a dichotomy between the halves and the have nots in this spectacular story that will help the reader understand the tensions during this tumultuous time in American history.

Reviews:
— from Kirkus Reviews "A leisurely pace that allows an exploration of both racism and community"
— from Book List "Conveys a sense of community that cuts across race and generations."

Awards:
ALA Notable Children's Book

Connections:
Can be paired with a social studies chapter on WWII
Bibliography
Holm, J. L. (2010). Turtle in Paradise. New York: Random House.

Summary: Turtle in Paradise is the story about an eleven-year-old girl named Turtle who is forced to stay with her aunt and cousins in the Florida Keys while her mother works for a housekeeper who doesn't allow children in her home. In Florida, Turtle becomes acquainted with her aunt, grandmother, and a band of rugrat bandits aptly named the "diaper gang." This is a heart-warming story about family bonds and losses, all told through the punchy lense of a very bright young girl.
3. Analysis: Turtle in Paradise is written with wry, intelligent humor that is one part honest and two parts hilarious! This unique style is demonstrated in phrases like "It's so hot that the back of my legs feel like melted gum, only stickier," and "The door opens and I see the source of the racket: a bald, fat, red-faced baby." Such commentary will also help the reader understand the story's sardonic, central character–Turtle. Turtle is a richly developed protagonist. She's cool and steely on the surface, but on the inside she cares deeply about her mother who's soft blue eyes–Turtle believes–make her see everything through rose-colored glasses. Turtle, on the other hand, sees things for what they are—lousy and dust covered! Turtle in Paradise is set in the Dust Bowl era, and occasional descriptions of trucks rumbling over dusty roads and references to how people should move out to the coast to get away from the dust, add just enough touches of history to let the reader know the time period. Although the the story is sweet and charming, it does not shy away from mature subject matter, like Turtle's mom's habit of dating men who love her and leave her and the poverty that can be seen across the American landscape during the Great Depression. As far as themes are concerned, the story demonstrates Turtles' growth as her perception of life and people evolves from one that is fatalistic to one that would best be described as practical optimism. In the end she learns that even though bad things happen and not everyone can be trusted, we can still be grateful for what we have, and as long as we stay close to our loved ones, we can overcome anything.
4. Reviews:
-from Kirkus Reviews "Sweet, Funny, and Superb."
5. Awards:
2011 John Newberry Honor Book
6. Connections:
Can be read as part of an SEL lesson on balancing optimism with realistic expectations