Citation: Montgomery, S., & Bishop, N. (2007). The Tarantula Scientist. Boston: Houghton Mifflin.
Summary: In The Tarantula Scientist, Sy Montgomery takes the reader through a journey to the southern hemisphere inside the dense jungle of French Guiana, where Sam Marshall, a tarantula researcher and specialists, makes his nightly rounds visiting tarantula burrows, studying the wooly creatures and sharing fascinating details about these little understood ambush predators. Montgomery, also takes the reader behind the walls of Hiram College's Spider Laboratory — the only comparative tarantula lab with specimens from all over the world. It houses more than 500 species of spiders. Here, arachnologists provide perfect conditions for the spiders while they study them—It's enough to give an arachnophobe a heart attack!
Analysis: The Tarantula Scientist is a hair-raising journey into the life and eerie job experiences of arachnid specialist, Sam Marshall. The book can be trusted as having authority and accuracy because Sy Montgomery does not rely on her own ideas about these little-known critters, but rather defers all expertise to her companion scientist, Sam Marshall. Montgomery quotes Marshall or paraphrases him, as the arachnologist discusses the behavior of giants like the goliath bird-eating spider –whom he coaxes out of its hole with a stick –or the singular beauty of the elegant martinique pinktoe –whose body is covered from head to toe in hot pink bristles. But Montgomery's delivery isn't dry and monotonous as some might expect from an informational book about arthropods no less. Instead, she relates to her young audience in both delivery and style. In fact, many of her comments are humorous like when she compares a tarantula's habit of drinking its prey's insides and tossing away the husk to a child discarding an empty "juice box" in the corner of their room or when she uses the phrase"Got Silk?" as a subheading, which will make any reader chuckle. This use of lighthearted tone and personality is sure to engage young readers and even make some kids less nervous about tarantulas and spiders altogether. Another interesting stylistic choice that Montgomery employs is the occasional interactive activity such as when she asks readers to perform simple math to figure out the weight or length of a spider. Since science requires a great deal of math at times, this will help any aspiring scientists get their feet webbed– err wet. The book is also organized in a way that is extremely reader friendly with an introduction, headings, subheadings, and text features such as a glossary of scientific terms. It is extremely easy to navigate through the book and find any section with ease. The Tarantula Scientist is also exquisitely designed! With Nic Bishop's beautiful high resolution images of different tarantulas and other specimens lining the pages as well as gracing the cover, it is truly eye-catching. Even for people who are not keen on tarantulas (this reviewer included) there is no denying that the artistry of the book is next to none. These images also serve as narrative markers which add to both the aesthete and navigability of the text. The Tarantula Scientist will definitely be enjoyed by any young reader, even a squeamish one.
Review Excerpts:
— from Kirkus Reviews "Montgomery and Bishop team up for another stellar excursion into the world of working scientists."
— from Digital Journal " carefully researched on all levels."
Awards:
2005 Robert F. Silbert Informational Book Medal Winner
Connections:
–Can be paired with a science chapter on arthropods
–Can be used with an SEL lesson on conquering fears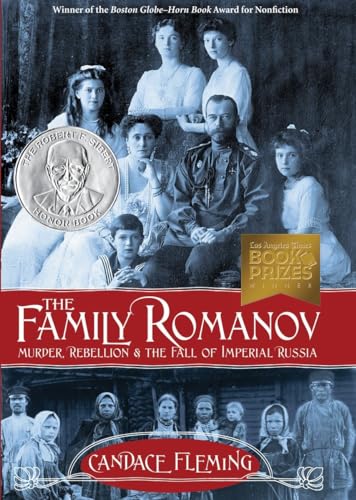 Citation: Fleming, C. (2014). The family Romanov: Murder, rebellion & the fall of imperial Russia. New York: Schwartz Wade.
Summary: The Family Romanov: Murder, Rebellion, and the Fall of Imperial Russia by is a multi-source account of the life and fall of the last ruling family of Russia and the dismantling of autocracy in this Easternmost European country.
Analysis: The Family Romanov: Murder, Rebellion, and the Fall of Imperial Russia is both a riveting and elegant piece of non-fiction literature. Candace Fleming's chapter by chapter weaving of the lives of peasants and royalty creates an intricate pattern throughout her book, which is rich with description and alarming with its harrowing images of 19th century Russian lives. Having used primary sources for insights into the lives of both the lower class and the elite, the account can be trusted for its historical accuracy and validity. Fleming deftly marries the thoughts of these first person descriptions with her own narrative, creating elevated prose that sparkles. In one ballroom scene, Fleming writes "Now their guests followed suit, swirling and dipping. 'The whirl of the waltz [puffed out] the skirts,' recalled the French writer, Theophile Gautier … 'the little gloved hands resting on the epaulettes of the waltzers looked like white camellias in vases of massive gold.' " The reader can almost feel as if they are present in the ballroom with dukes and duchesses! The accounts of peasant life are equally engrossing, but for different reasons. "Most izby [homes] had no furniture," and one charity worker's account is particularly revealing "' stooping down, I creep through the low door … a damp, suffocating air meets me, so that I am nearly fainting.'" Fleming's book also includes additional text features such as black and white photographs of Russians, maps, and the extensive Romanov family tree, which helps the reader fully appreciate every detail of Russian lineages, sovereignty, and terrible excess. The photographs also add a personal touch and design to the text that creates a sense of of intimacy and gives the story added depth and weight. The book is organized much like a narrative story with (as mentioned before) interweaving accounts of royals and peasants. This helps provide not only a well-rounded story, but also works as a dramatic device, displaying for the reader the extreme disparity that was nothing short of criminal. The smattering of images and maps throughout the book occur at appropriate moments in the text enhancing the experience of this beautiful and intricate, but ultimately tragic story.
Reviews:
— from The Washington Post "another engaging and insightful work of history, giving young readers a clear sense of the complicated world in which the Romanov family lived and died."
— from Kirkus Reviews "It's an astounding and complex story."
Awards:
2016 Pennsylvania Keystone State Reading Association Book Award
2014 Bulletin Blue Ribbon Book
Los Angeles Times Book Prize
2015 Capitol Choices Noteworthy Book for Children's and Teens
2015 YALSA Excellence in Nonfiction for Young Adults
Connections:
— Can be paired with a study of monarchs in social studies
— Can be read along with other books on rebellions such as Animal Farm
Citation: Jenkins, S. (2009). Down, down, down: A journey to the bottom of the sea. Boston, MA: Houghton Mifflin Books for Children, an imprint of Houghton Mifflin Harcourt.
Summary: Down, Down, Down: A Journey to the Bottom of the Sea by Steven Jenkins takes a slice of the ocean, above the Marianas Trench, and discusses the flora, fauna, and hydrodynamics that take place as the narrator takes the reader down, down, down to the deepest place in all of the ocean– the Marianas Trench.
Analysis: Down, Down, Down: A Journey to the Bottom of the Sea will strike a cord with adults familiar with Jules Verne novels, particularly A Thousands Leagues Under the Sea. Although Verne's work is fictional, from a stylistic perspective, one can still appreciate the similarities between these texts as they both entail voyages to the bottom of the ocean and pique the reader's interest with intricate details of the strange creatures that live there. Readers will be exposed to beautiful and wondrous animals as well as terrifying giants along the way. They will watch as monsters such as the giant squid and sperm whale clash in the depths and they will be fascinated as they learn of the the hairy angler whose mate fuses himself to her body where he remains for the rest of his days. The book is designed in a most intriguing way, with a deep descension navigating both the plot and organization that ends in a satisfying denouement with a final plunge into the 35,838 ft. deep Marianas Trench. This text also includes a glossary of marine creatures which will satisfy the knowledge needs of precocious children and adults alike. The design of the book, is probably its strongest feature. With an abundance of cut-out paper illustrations, readers will appreciate every detail of these sea creatures that pop in brightly colored oranges and pinks and the contrasting seascape itself as it recedes into the twilight with increasingly darker shades of blue. Also, the science facts can be trusted because this book has been positively reviewed by trustworthy publications such as Kirkus Reviews who says that readers are sure to be delighted with this intriguing informational adventure story.
Reviews:
— From Kirkus Reviews "Once again, Jenkins provides an almost irresistible entry into our natural world for the youngest readers."
Awards:
2010 Notable Children's Book Award Winner
Connections:
–Can be paired with a science chapter on oceanography or marine life